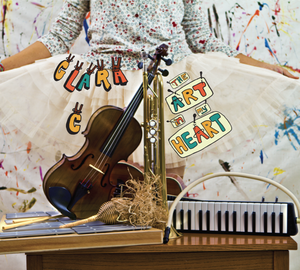 The long anticipated Clara C debut album is here. After a magical three months at Paramount Studios, it has finally arrived! The album "The Art in My Heart" features a lyric booklet and digipack case with lots of photos inside! See some behind the scenes on the Making of Clara C's Album. Here's the track listing:
The Art in My Heart Track List:
1. Hum
2. Offbeat
3. Heartstrings
4. The Camel Song
5. Til We Go
6. Fool's Gold
7. Dear Daphne
8. Loveprint
9. Wait On Me
10. Wake Up In Neverland
You can get "The Art in My Heart" on
. She's also been periodically posting new songs on her Facebook fan page. Here's a special note from Clara's Team:
We want to take this opportunity again to thank everyone who has supported us so far. Please know that without each person's view, support, or just spreading the word about CLARA C we would never be in the position that we are in now. We have met some great people along the way and many friends have been made along the way and we hope that this journey that we are about to take will be a reflection of the impact that each person has made on us. So once again THANK YOU!!!

The Clara C Team
Clara C team interview with channelAPA.com
Clara Chung album announcement with Jane Lui
Today from 7-9pm at the renowned Hotel Cafe in Los Angeles, a select number of media, friends, and most importantly fans will be able to hear Clara C perform all 10 songs off her debut album live with a band. Tickets to the release party will be $10.00 and there are limited amounts of tickets.