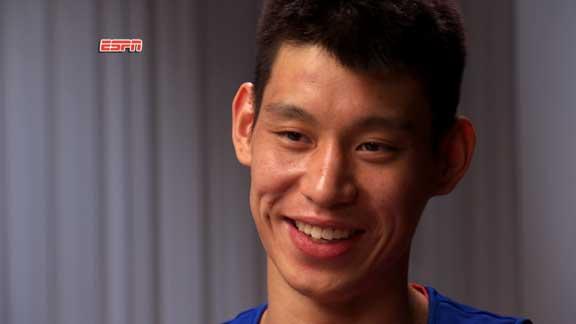 ESPM's Rachel Nichols chats with Jeremy Lin about his rise to stardom. He and his family has been overwhelmed with publicity hounds. Rumors have been floated around about where he's living in New York and dating Kim Kardashian. (He squashes all the rumors.) This past year hasn't been easy for Lin. He struggled through some tough times and hit several low points. Waived twice earlier this year, he contemplated playing in the D-League, playing overseas, or taking a break all together. With his meteoric rise, Lin still deals with issues being an Asian American athlete. His consistency was needed to prove the haters wrong. Even then, people still use terms like "deceptively quick", "quicker than he looks", "deceptively athletic". This season, he's played differently. Those following him as a Golden State Warrior know he was playing cautiously, not to make mistakes. With the Knicks, he's given all he can by playing aggressively his way. His new perspective has made all the difference this season.
Also check out Jeremy Lin: To The Point interview
ESPN interview with Jeremy Lin
ESPN interview with Jeremy Lin
Jeremy Lin sits down with Rachel Nichols to talk NBA, Knicks and playing in the spotlight.