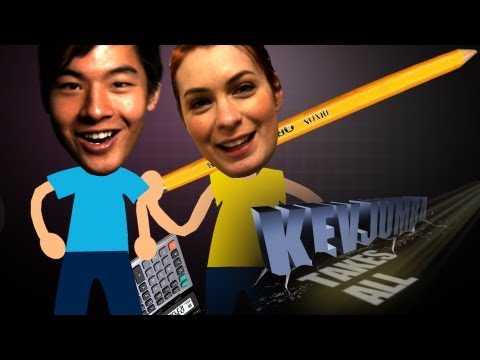 YouTube sensation KevJumba has a new webseries on the YOMYOMF network called "KevJumba Takes All," where he fearlessly duels celebrities in difficult, wacky, and hilarious competitions. (anyone remember KevJumba vs Baron Davis? or the stare down between KevJumba, Baron Davis, and Jessica Alba?) In episode 1, KevJumba challenges nerd queen Felicia Day ("THE GUILD") to the most cerebral of challenges – the SATs. Back in high school, over-achieving Felicia got a perfect score. But when it comes to standardized tests, Kevin has a secret weapon (he's Asian). Felicia was a math major. Who will win? The lowest scorer will need to take a remedial class the rest of the day.
For a less competitive challenge, see Felicia Day cuts a rug with KevJumba.
Next week, KevJumba takes on Harry Shum Jr. in dance. This can't be good.
KevJumba Takes the SAT with Felicia Day