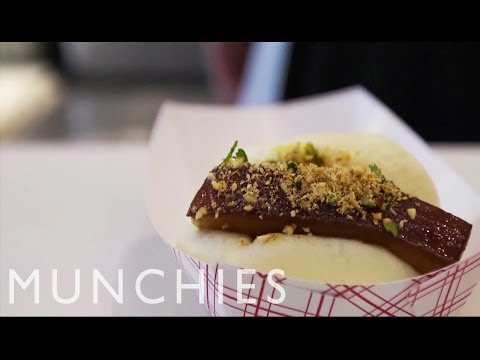 Chef Eddie Huang is tired of Americans eating Chinese food like hooligans, so on this tour of the best Asian restaurants in NYC he teaches you how to eat soup dumpling properly. We also follow him and his crew, which includes Grammy Award-winning producer Emile Haynie and nightlife empresarios Max Koshkerman and Simonez Wolf to some of Eddie's favorite spots including Nan Xiang Xiao Long Bao and New Imperial Palace in Flushing, Queens. Then off to the Russian Bath and lastly back to BaoHaus for some drunken eats.
Munchies with chef Eddie Huang (contains explicit language)
More about Eddie Huang
Eddie Huang is a writer, chef, entrepreneur and TV personality based in New York. He is best known as the chef and owner of Baohaus, a New York City restaurant which has received critical acclaim and coverage from The New York Times, the New York Post, CNN, NBC, CBS, the Village Voice, Town & Country, XXL, The Source, Complex, Entrepreneur, Wall St. Journal and many more media outlets. Eddie won an impressive "$25 and Under" review from The New York Times, "Best Bun 2010" from New York Magazine, "Best Fries" from Timeout magazine 2010 and "Top 10 Eats" from the Village Voice. Additionally, Eddie made the "Chow 13" in 2011 for his use of social media. While other chefs have stayed in the kitchen, Eddie is as prolific outside as he is inside the kitchen.
Eddie created his own lane as an outspoken cultural commentator with his raw, uncut wit that bridges food with hip-hop, immigration, comedy, politics and downtown New York. He published the his book Fresh Off the Boat, a memoir about his lif, and travels seamlessly between worlds with an uncanny ability to find stories and champion the issues that need to be heard, with a perspective that guarantees to surprise, entertain and inspire.