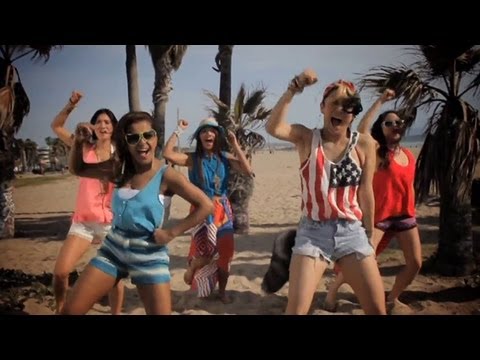 Girl group Blush visits Disneyland and dances it up in this exclusive music video for their hit song "Up, Up and Away" featured on the Shake It Up: Live 2 Dance soundtrack. Follow these lovely ladies into the Magic Kingdom as they ride the tea cups & rolleroasters, enjoy the world of the Little Mermaid & Toy Story, and more. It's a small world after all. Watch Victoria, Alisha, Natsuko (aka Nacho), Ji Hae, and Angeli have fun in this beloved theme park. You can get the single on
or amazon.
Listen to more Blush: All Stars (club version), All Stars, Dance On, Undivided and Fell in Love with a Song.
Up, Up and Away by Blush
Lyrics to Up, Up and Away by Blush
Whatcha waiting for?
Always runnin' up the wall
The whole wide world is your stage
Go on now, superstar
I got the beat on lock
Gonna give it all we got
Y-You will find your way
If you just bring your heart
K-Keep your eyes open wide
You might just be surprised
Feel free to join the joy ride
It is a state of mind
Come on, let's make it happen
It'll be more than you imagined
When words turn into action
We'll be ready to go, go!
Whoah
Up up and away
Get you up and away
Up up and away
Get you up and away
Up up and away
Get you up and away
Seconds turn into minutes
And the minutes into hours
On the clock, keeps ticking
We gotta make the world ours
Gotta do what you gotta do
Right now it's just a preview
O' what you have in store
You and I know that there's more
Hear me now
No hesitation, gonna rock this nation
From my town to your neighborhood
Let the people know that it's good
I'm gonna be all that I can be
See all the things there is to see
Nod your head if you agree
Go, go!
Whoah
Up up and away
Get you up and away
Up up and away
Get you up and away
Up up and away
Get you up and away
Embrace the light
The silence will be broken
Once you face your fright
Reflection of the being who you are inside
Who shines so bright and get you
Get you up and away
Get you up and away
Get you up and away
Get you up and away
Up up and away
Get you up and away
Up up and away
Up up and away
Up and away