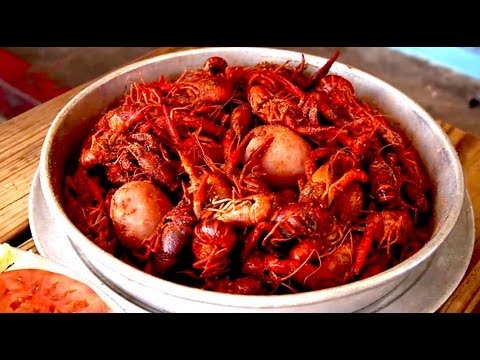 In episode 3 of The Fung Brothers Mess with Texas, David and Andrew try to catch their own dinner by learning to fly fish. Getting you line tangled up and hooking a tree doesn't get you closer to catching a fish. Afterwards, they head to Aw Shucks, where the get a lesson in cooking crawfish and shucking oysters. The winner of the oyster shucking contest will prepare the loser's oyster. That's never a good thing between these brothers. See what the menu is on tap after all their hard work.
Previous episodes
The Fung Brothers Mess with Texas : Episode 1
The Fung Brothers Mess with Texas : Episode 2
The Fung Brothers Mess with Texas : Episode 3 (contains profanity)
Aw Shucks Crawfish Recipe:
24 oz Crawfish seasoning
12 oz lemon juice
12 oz worchestershire sauce
12 oz granulated garlic
Put all ingredients in 32 qt stock pot filled ¾ full of water. Bring to slow boil. Add live crawfish using a strainer and cook for 5-6 minutes until bright red. Gently lift the crawfish from the pot and drain. Put the cooked crawfish in a large container and sprinkle generously with crawfish seasoning shaking to coat evenly. Seal container and allow crawfish to steam for 2-3 minutes. Shake container just before opening and pour cooked crawfish on to a platter. Sprinkle lightly with lemon juice and granulated garlic before serving.