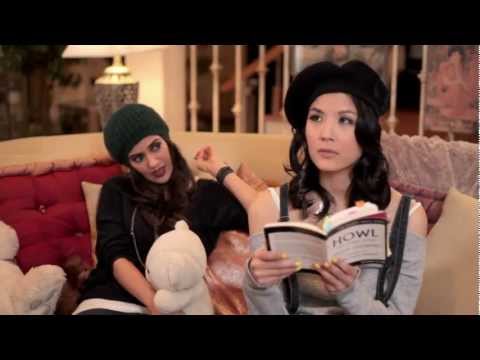 The Nice Girls Crew webseries continues with episode 4 entitled "Hoot N Holla." Leena and Sophie celebrate the anniversary of their friendship by remixing their 9th grade presentation of HOWL by Allen Ginsberg. Enter the world of spoken word when they perform this notorious poetry collection complete with bongo drums and berets. They try to bring back the 50's hipsters. Geraldine gives them feedback on their performance and jumps in to show them how it's done by bringing out her inner Christopher Walken and taking over both roles. Geraldine's spoken word turns into a bit of interpretative dance, but all great shows must come to an end when someone gets injured.
Previous episodes:
Nice Girls Crew : Episode 1
Nice Girls Crew : Episode 2
Nice Girls Crew : Episode 3
Nice Girls Crew : Episode 4 (contains some adult language)
| | | |
| --- | --- | --- |
| | | |
More about Nice Girls Crew
From award-winning Sundance helmer Tanuj Chopra (Punching at the Sun) and emerging writer/producer Christine Kwon, comes a new comedy about three best frenemies and their cray cray antics in a book club. (It's like the female version of YOMYOMF's The Book Club). Sophie (Lynn Chen – Saving Face, Surrogate Valentine) is the human rainbow bright, wreaking sunshine even as she reveals her inner Dexter. Geraldine (Michelle Krusiec – Chinglish, Saving Face) is the badly permed, cult leader potentate, whose talents range from spoken word dance performance to carefully balancing martini glasses. And Leena (Sheetal Sheth – Reign, Three Veils, Looking for Comedy in the Muslim World, The World Unseen) is the unabashed thug-ess in heels, whose constant refusal to read the books is matched only by her trademark tardiness. When the three come together, it's an unforgettable mix of taut one-liners, delusions of grandeur, and explosive conversation material.