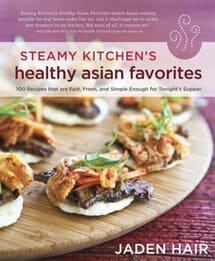 Steamy Kitchen creator Jaden Hair, top Asian cooking blogger, gives a healthy and truly inspired overhaul to more than 120 classic Asian recipes, making them accessible and easy for home cooks. As the creator of the beloved blog Steamy Kitchen, Jaden Hair knows how to make Asian food accessible and exciting to home cooks. Now, with humor and a can-do attitude, Jaden presents this collection of her quick and flavorful recipes for healthy Asian dishes, most of which are naturally gluten-free and light on meat. With her infectious passion for cooking, she teaches you how to shop for the best Asian ingredients, stock your pantry to streamline weeknight meals, and master delicious Asian cooking at home.
Featuring good-enough-to-eat photography shot by Jaden Hair herself, this book speaks to a new wave of healthy eaters without sacrificing flavor, ease, and fun. She makes Asian foods seem approachable, not intimidating, and also offers new material for experienced Asian cooks looking to expand their repertoires. Doing away with gloppy sauces, oily stir-fries, and high calorie counts, these vibrant and unquestionably unique dishes are inspired makeovers of authentic dishes from China, Indonesia, Japan, Korea, Thailand, and Vietnam. Recipes such as Chicken-Mango Lettuce Cups, Seafood Curry Noodle Soup, Vietnamese Summer Rolls with Grilled Tofu, Korean Tacos My Way, and a Thai-inspired Peach and Basil Smoothie are perfectly suited for everything from casual dinners to impromptu parties and gatherings.
Jaden's conversational style will make you feel as if you have a knowledgeable friend in the kitchen, guiding you through the process. With Jaden on your side, you can learn to cook fast, fresh, tasty Asian dishes that family and friends from seasoned foodies to picky kids will enjoy and request time and time again!
You can get the book on amazon.
Steamy Kitchen's Healthy Asian Favorites Cookbook Trailer with Jaden Hair