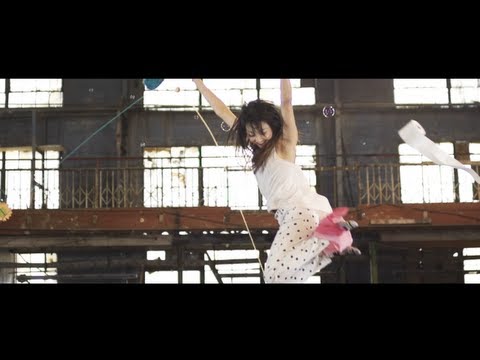 Singer Clara C release the music video for her single "Wanting What I Need" off her Esc album. The upbeat track gets playful visuals as Clara's friends and family has some fun jumping up and down. In the rat race of life, we just need to let go of things and focus on the our loved ones as Clara C puts it "Stop needing what I want and start wanting what I need". So relax and have some fun in life. You can get the song on
.
In the video, can you spot all these jumpers?
Clara Chung
Ken Belcher
Josh Doyle
Thomas Drayton
Ross Ching
Ally Maki
Justin Vancho
Michel DeAscentis
Julie Zhan
Abraham Lim
Dan Fisher
Edward Park
Khalif Boyd
Yuri Tag
Yuri Sinata
Can Nguyen
Mike Song
David So
Edric Park
Dan Levitt
Lyman Creason
Benjamin Sayles
Listen to more Clara C : You've Got It All, Fish, The Camel Song, Offbeat and Heartstrings.
Wanting What I Need by Clara C

Lyrics to Wanting What I Need by Clara C
Been searching for a fire in a universal cold
The only warmth I found was from tucking in a mold
The hands of time were closing the patience I could hold
I could hold
La la la la la
La la la la la
La la la la la
La la la la la
La la la la la
Been wasting all my time chasing ceilings known to grow
We chase them til we're tired, and we chase them til we're old
I found something that changes and turns my rust into gold
into gold
This time I'm gonna break out and be free
Stop needing what I want and start wanting what I need
With my God and my friends and family
They're filling up my soul this is how it oughta be
We're all in this pursuit trying to bloom without a root
My hands have worked the soil, built the buildings for the view
At times I do forget, where the thankfulness is due
Where it's due
This time I'm gonna break out and be free
Stop needing what I want and start wanting what I need
With my God and my friends and family
They're filling up my soul this is how it oughta be
La la la la la
La la la la la
La la la la la
La la la la la
La la la la la
This time I'm gonna break out and be free
Stop needing what I want and start wanting what I need
With my god and my friends and family
They're filling up my soul this is how it oughta be