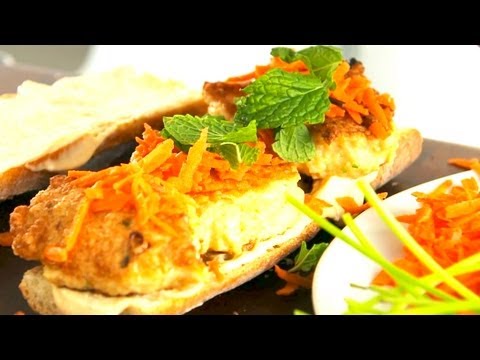 If you didn't think shrimp could be made into a delicious burger, think again! It won't be complete without Sriracha mayo. Is it lunch time soon?
How to Make A Shrimp Banh Mi Burger

Recipe for Shrimp Banh Mi Burger
1/4 cup vegetable oil
16 ounces peeled and deveined shrimp, tail removed
2 tablespoons Sriracha
2 tablespoons panko breadcrumbs, plus more if needed
1 tablespoon fish sauce
2 teaspoons grated ginger
2 teaspoons rice vinegar
3 scallions, sliced
1 egg
1 teaspoon salt
1/3 cup mayonnaise
1 lime, juiced
1/4 baguette, sliced open, per burger
Shredded carrot
Fresh mint
Fresh cilantro
1.Preheat non-stick pan with vegetable oil over medium heat.
2.In a food processor, puree together shrimp, 1 tablespoon Sriracha, panko breadcrumbs, fish sauce, grated ginger, rice vinegar, scallions, egg, juice of 1/2 a lime, and salt. Form into small patties. Cook in non-stick pan 4 minutes per side until just cooked through.
3.While the patties cook combine mayonnaise, 1 tablespoon Sriracha sauce, and juice from 1/2 a lime. Spread sauce all over the baguette.
4.Place 3 patties per baguette and top with carrot, mint and cilantro.