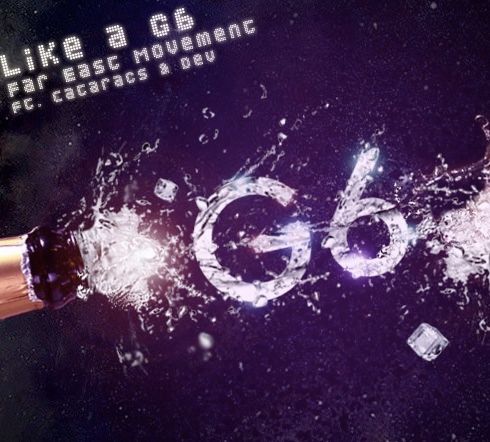 Far East Movement just kicked of the Party Rock Tour with LMFAO today. Before they went on tour, they released a new track "Like a G6" off their upcoming Party Animal Mixtape. For this new collbo smash, the guys teamed up with The Cataracs (Universal Records) and Dev (Indiepop). The song is already rocketing up the YouTube charts.
You can now get "Like a G6" on

.


Also check out some of their recent releases: Party Animal Remix and 2 is Better. These guys have definitely blown up this past year. They even have an upcoming cameo in a Snoop Dogg video with fellow "Dance Like Michael Jackson" collaborator Quest Crew. Support Far East movement getting their latest album "Animal" featuring "Girls on the Dance Floor".
Update: See the official Like a G6 music video.
Like a G6 by Far East Movement
Lyrics for Like a G6 by Far East Movement


Hook

Poppin bottles in the ice, like a blizzard

When we drink we do it right gettin slizzard

Sippin sizzurp in my ride, like Three 6

Now I'm feelin so fly like a G6

Like a G6, Like a G6

Now I'm feelin so fly like a G6



Verse 1

Gimme that Mo-Moet

Gimme that Cry-Crystal

Ladies love my style, at my table gettin wild

Get them bottles poppin, we get that drip and that drop

Now give me 2 more bottles cuz you know it don't stop



(808) Hell Yeaa

Drink it up, drink-drink it up,

There's sober girls around me, they be actin like they drunk

They be actin like they drunk, actin-actin like they drunk

Wit sober girls around me actin-actin like they drunk



Hook

Poppin bottles in the ice, like a blizzard

When we drink we do it right gettin slizzard

Sippin sizzurp in my ride, like Three 6

Now I'm feelin so fly like a G6

Like a G6, Like a G6

Now I'm feelin so fly like a G6



Verse 2

Sippin on, sippin on sizz, Ima ma-make it fizz

Girl i keep it gangsta, poppin bottles at the crib

This is how we live, every single night

Take that bottle to the head, and let me see you fly



(808) Hell Yeaa

Drink it up, drink-drink it up,

There's sober girls around me, they be actin like they drunk

They be actin like they drunk, actin-actin like they drunk

Wit sober girls around me actin-actin like they drunk



Hook

Poppin bottles in the ice, like a blizzard

When we drink we do it right gettin slizzard

Sippin sizzurp in my ride, like Three 6

Now I'm feelin so fly like a G6

Like a G6, Like a G6

Now I'm feelin so fly like a G6



Bridge

Its that 808 bump, make you put yo hands up

Make you put yo hands up, put yo, put yo hands up

(You can't Touch this)

Its that 808 bump, make you put yo hands up

Make you put yo hands up, put yo, put yo hands up

(You can't Touch this)

Hell Yeaaa, Make you put yo hands up, put yo put yo hands up

Hell Yeaaa, Make you put yo hands up, put yo put yo hands up



Hook

Poppin bottles in the ice, like a blizzard

When we drink we do it right gettin slizzard

Sippin sizzurp in my ride, like Three 6

Now I'm feelin so fly like a G6

Like a G6, Like a G6

Now I'm feelin so fly like a G6