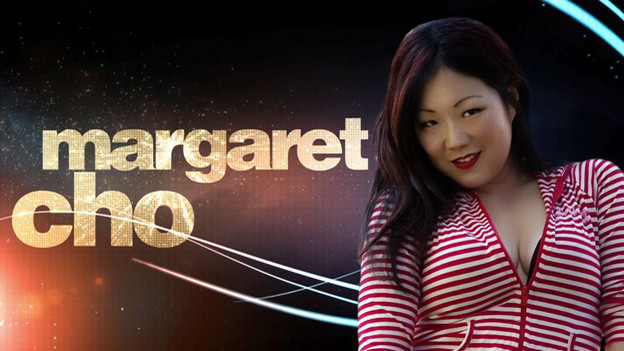 Margaret Cho has been named to the cast of Dancing with the Stars Season 11. In the Q&A session, she confesses that she doesn't have any ballroom dancing experience, but knows some stripper moves. Somehow she'll fit this into her comedy tour schedule. Margaret has also recently released the comedy album "Cho Dependent" with songs like I'm Sorry and Eat Sh*t and Die. (Order the album now here)
Besides Margaret Cho, the other celebrities heading to the dance floor this season include David Hasselhoff, Florence Henderson, Mike 'The Situation' Sorrentino, Brandy, Michael Bolton, Jennifer Grey, Kyle Massey, Bristol Palin, Audrina Patridge, Kurt Warner and Rick Fox. The all-new lineup of stars — including a Grammy Award-winning singer, a Super Bowl MVP quarterback, television's ultimate mom, an NBA champion, Alaska's most famous daughter, and the most watched TV star in the world – will battle each week on the dance floor in the sensational two-hour season premiere of "Dancing with the Stars," MONDAY, SEPTEMBER 20 (8:00-10:01 p.m., ET) on the ABC Television Network.
All 12 couples will dance for the first time on live national television on MONDAY, SEPTEMBER 20 (8:00-10:01 p.m., ET), with couples either performing the Viennese Waltz or Cha Cha. The couple with the lowest combined judges' scores and public votes for their performance will be sent home on TUESDAY, SEPTEMBER 21 (8:00-10:00 p.m., ET) in the season premiere of "Dancing with the Stars the Results Show." Music legend Santana and rock band Daughtry are slated to perform.
Margaret Cho to be on Dancing with the Stars
Dancing with the Stars Season 11 contestants Q&A
More about Margaret Cho
One of the most successful stand-up comediennes of today, Margaret Cho's performances have been seen by millions around the world. Having first performed stand-up in her native San Francisco at the age of 16, Cho's best-selling tours include the off-Broadway hit/concert film "I'm the One That I Want," "Notorious C.H.O.," "Revolution" and "Beautiful." She is also a regular cast member of the hit Lifetime series "Drop Dead Diva." Other acting work includes her starring role in the sitcom, "All-American Girl," "Face/Off" and several guest star appearances, including "Sex and the City" and "Ghost Whisperer." Cho is also a best-selling author whose work includes the book I'm the One That I Want and a collection of essays entitled I Have Chosen to Stay and Fight. A passionate advocate for equal rights, she has received honors from GLAAD, the National Gay and Lesbian task Force, National Organization for Women, Asian American Legal Defense and Education Fund, the Victory Fund and many others. Cho is currently touring with "Cho Dependent," which features both stand-up and songs from her new music comedy album of the same name.