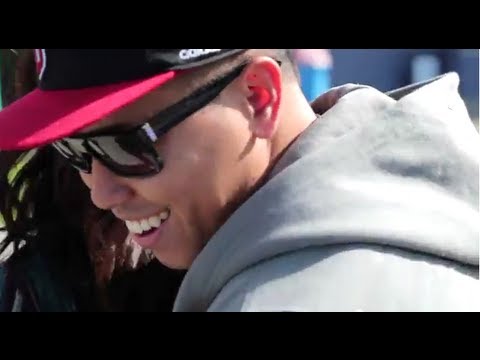 A massive collabo came out out a recent event in Seattle. Tommy C x Jargon x L-Dubs x Loe x Erin Paula get together on an Asian American Remix to Jason Derulo's "It Girl". The group looks like they had some fun times at an amusement park. Listen to what it takes to be an "It Girl" You can download the track FREE here.
Watch these other Asian American remixes: Say Ahh, Bedrock, Replay
It Girl by Jargon, L-Dubs, Loe ft. Tommy C and Erin Paula (contains explicit lyrics)
Lyrics to It Girl Asian American Remix
Chorus – (Tommy C)
You could be my it girl
Baby you're the sh*t girl
Lovin' you could be a crime
Crazy how we fit girl
This is it girl
Give me 25 to life
I just wanna rock all night long
And put you in the middle of my spotlight You could be my it girl You're my biggest hit girl
Let me play it loud
Let me play it loud like… oh oh oh oh
Let me play it loud
Let me play it loud like… oh oh oh oh
Let me play it loud
JARGON
I don't wanna go home with you, I wanna wake up with you N maybe share a couple vows I wanna take up with you Spend a whole day just to lay up with you And get you mad for a minute just to make up with you For your love I'll go dumb shawty, retard Cuz you're my I.T. girl, no Geek Squad Used to think my heart need a recharge But now its all access no keycard So it'll be, a little more history If 'it' and me, could take off to It-aly Cuz that, 'it' is you, and it's fit to be N if I cant have that, than its it for me Peace!
L-Dubs
So quick, U got Sam, on a trip, like first class One glimpse, like hot damn, U it, U got tagged Your wit, is so fast, you dress, so high class Your lips, is so soft, other chicks, get blown off They gone, U the one, U da shi*t, U da bomb U the girl, that I plan my future history for A couple kids, picket fence, girl whatever U want Just lemme know it, we can do it, babe it's more than just talk cuz U my
LOERIDER
no doubt baby girl you the reason
knock em out cold fall like the seasons
may weather any weather i can feel it
i build it you cum ikea bed let me build it
you the perfect verse over the perfect beat lets make music or better yet a symphony so dot ya i's and cross ya t's and put em together cause you it for me girl