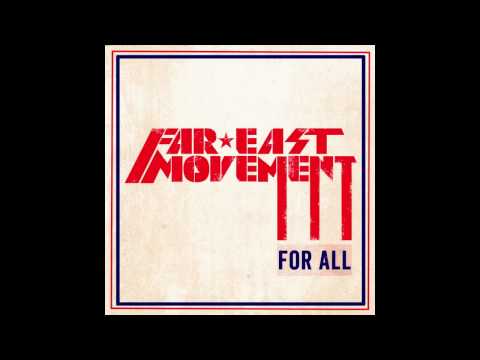 Far East Movement throws their politically support for President Barack Obama with their single "For All". Here's more about the track from the guys:
Our song "For All" is inspired by President Obama's For All/ Forward campaign. It was an honor to be able to perform at the Gotta Vote event in Richmond Virginia for the Obama team and play this song. We wanted to create an anthem around the inspirational ideals that people around the world are entitled to.. No matter your race, religion, sexual preference etc.. and took the energy and the feeling from the crowd at our concerts .. No matter who you're next to, you're experiencing the same feelings together. Produced by the Stereotypes family… and we just shot the music video coming soon with all donated resources from the community coming together!
Hope is For All. You can get the single on
or amazon.
Listen to more Far East Movement: Little Bird, Get Up (Rattle), Change Your Life Remix, Turn Up the Love, Turn Up the Love (fan version), Dirty Bass, Live My Life, Candy, Live My Life (Party Rock Remix).
For All by Far East Movement
Lyrics to For All by Far East Movement
Love is for all, for all, for all, for all
I spend a lot of time looking for a better day
Changing looking like it's many years away
Slowly, slowly getting closer as my hope takes over for all
La-la-la-la
I'm pushing to the limit through the pouring rain
I see my parents work hard through the tears and pain
I guess we all do the same, let your dreams lead the way for all
La-la, yeah
I wear my heart on the sleeve and I'm not the only one
(I'm not the only one)
I always get back on my feet and I'm not the only one
(I'm not the only one)
I learn to cherish every moment now, I'm not the only one
(I'm not the only one)
As long as we're together, you'll never feel alone, at all
Chorus:
Love is for all
Life is for all
Dreams are for all
Hope is for all
Fell the love from everybody in the crowd now
This is for y'all, this is for all
Love is for all
Life is for all
Dreams are for all
Hope is for all
Fell the love from everybody in the crowd now
This is for y'all, this is for all
Sometimes I sit back, relax and enjoy the feeling
If I'm living, oh I'm barely living, oh I'm still breathing,
Today is something different, I woke up on the good trip
But the next part of my life where I could flip the world I live in
And now the sun is shining in my face
The doors are all well opened, will never close again
I do it for the love and let my dreams lead teh way for all
La-da
I wear my heart on the sleeve and I'm not the only one
(I'm not the only one)
I always get back on my feet and I'm not the only one
(I'm not the only one)
I learn to cherish every moment now, I'm not the only one
(I'm not the only one)
As long as we're together, you'll never feel alone, at all
Chorus:
Love is for all
Life is for all
Dreams are for all
Hope is for all
Fell the love from everybody in the crowd now
This is for y'all, this is for all
Love is for all
Life is for all
Dreams are for all
Hope is for all
Fell the love from everybody in the crowd now
This is for y'all, this is for all
Dancing till we up to the top, you get up
We're strong enough that nothing will stop, now get up
Don't ever let your energy drop, get up
And everybody throw your hands up
Dancing till we up to the top, you get up
We're strong enough that nothing will stop, now get up
Don't ever let your energy droṗ, get up
And everybody throw your hands up
Chorus:
Love is for all
Life is for all
Dreams are for all
Hope is for all
Fell the love from everybody in the crowd now
This is for y'all, this is for all
Love is for all
Life is for all
Dreams are for all
Hope is for all
Fell the love from everybody in the crowd now
This is for y'all, this is for all