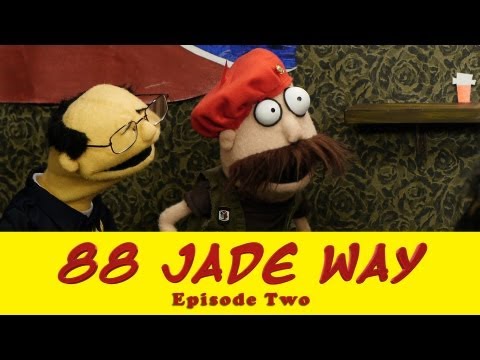 Web series 88 Jade Way continues with episode 2. The shady Mr. Moolah is back at 88 Jade Way, this time attempting to woo Gengha, the resident Mongolian alcoholic. Things get hairy when Red finds a monster in his closet – but Mr. Fu uses Gengha's rage to help deal with the bizarre threat. Mr. Fu's solution blows Red's mind, while Mr. Moolah continues his mission to take over Fu's building.
Previous episodes:
88 Jade Way : Episode 1
88 Jade Way : Episode 2 (contains adult language and situations)

Lyrics to Love Happens
Love Happen
It happen you see
It happen to you and it happen to me
Love happen
Wo Ai Ni
Lyrics to Fu Me Once
Fu me one, Fu me twice
One more time I'll roll the dice
Lock your door, watch your back
Soon enough, Fu, you get whacked
Fu me up, Fu me down
The party's on Fu, you're the clown
Through my eyes you're a scared ol' fellow
Under every light – a bit, hmm, too yellow
Fu me fast, Fu me slow
I plant my seed and watch it grow
This old house, soon be mine
THen no more Fu
It's business time!