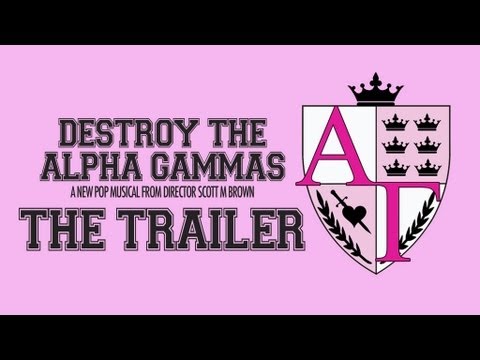 The upcoming webseries "Destroy the Alpha Gammas" is a sexy and edgy comedy driven by top 40 hits, love triangles, and cat fights in the vein of Bridesmaids or Pitch Perfect. Explore the world of sororities full of rivalry and revenge. Here's more about the webseries:
The story centers around Carrie (Leah McKendrick), the newly appointed president of the not-so-popular Delta Pi sorority. Carrie's world crashes down when she catches her longtime boyfriend cheating with the president of the Alpha Gammas: campus's most desirable and fearsome house. The Alpha Gammas are the girls your mother warned you about: man stealing, trash talking, polo shirt wearing snobs that think nothing of ruining lives.

The Alpha Gammas stop by the Delta Pi house for a quick (and seasonal) attack. Enough is enough: a newly defiant Carrie declares war on the Alpha Gammas- determined to defend her house once and for all. However, as the plan is underway and the AG's begin to implode, the Delta Pi's realize that they just might win this battle- but at what cost?
Look for singer Michelle Martinez as Ling with Delta Pi in the series. Listen to music from Michelle Martinez : Party All Night, Crushin', and Nobody But U.
Destroy the Alpha Gammas Trailer