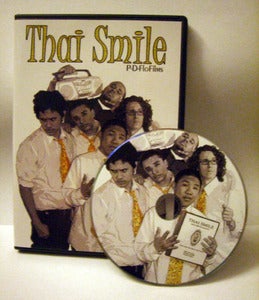 Recently, Timothy DelaGhetto and his crew put up one of his early films online set in his family restaurant. The short film was created way before they knew what they were doing. Despite the film's shortcomings, it's not bad for one of their early works. Here's a synopsis:
It's a busy day at Thai Smile Restaurant when Assistant Manager Tim is put in charge, but serving Thai food and greeting customers is the least of his problems. Take a seat and enjoy the meal as this goofy crew of incompetent waiters try their best to impress the city's most influential food critic under the most shocking circumstances. During this three course meal of laughter, action, and more laughter, they encounter everything from ninjas to robberies, and even DEATH! You'll want to watch this movie over and over again, so open up wide, but just make sure you save room for dessert!
The Timothy DelaGhetto brand of humor is all over this short. BTW – If you're in the LA area, be sure to drop by Timothy DelaGhetto's family restaurant.
Thai Smile!
8408 Alondra Blvd
Paramount, CA 90723
Also check out these other restaurant themed shorts with Timothy DelaGhetto including Immediate Fortune Cookie and Secret Ingredient. Look for Timothy and his crew to come out with something even better when High School Sucks – The Musical comes out.
Thai Smile with Timothy DelaGhetto (contains profanity)