Interviews by Christina Chou and Andrew Lo
Written by Jason Lee of Turtlistmedia.com
At the turn of the millennium, a small group of young Asian American hip hop fanatics could be found in an empty LA parking lot freestyling to instrumentals they downloaded off of the internet. These kids were bred in Koreatown. They dubbed themselves "MCees Anonymous".
There were few Asian Americans in music then. Yo Yo Ma broke it down on his cello, but was there anyone else? There sure as hell wasn't anyone representing rap music that looked like they grew up on kimchi and instinctually took their shoes off indoors. If these passionate hip hop lyricists were ever going to rap for a living, they would have to overcome an industry that couldn't imagine Asian males as anything more than kung fu masters, nerdy businessmen, or perhaps classical instrumentalists.
"You know Jabbawockeez? They wear the mask because they don't want people to judge them by their race. That's the way we felt back in 99'-2000'," said Far East Movement member, Kevnish. "That was when we were trained to think, 'If they know you're Asian, they're going to look down on you, at the project, at the music, at the art'. So we would call ourselves MCees Anonymous."
It wasn't until they wrote a song called "The Far East Movement" that they began to embody and reclaim their Asian American identities. The song was about what the group wanted to see transform in the media.
"When we were kids, we were like, 'Yo, that's so powerful! Why are we MCees Anonymous? We're being weak, so let's own it,'" said Kevnish. "'Let's have a stronger name, but let's make music that, when people hear it, they're first going to think they're not Asian because they're not saying anything about "Asian". They're making music that I can bump in the club.'"
Thus began their new strategy.
"When you go into our website you find out we're Asian. That is going to make the most impact," said Kevnish.
Under their new name, "Far East Movement", their style would encompass a sound that appealed to mass audiences, easily mixed into a DJ's Saturday night lineup.
"We can talk about Asian American issues for days in songs," he continued. "It's cool and it needs to be said, but I think this might have a stronger impact."
In the early 2000's, the group didn't know of any other Asian Americans who rapped. They were determined to be the first. Then one day, they flipped the channel to BET and saw a quick-tongued Cantonese-American destroy contestant after contestant on 106 and Park's weekly rap battle.
"Up until then, we thought we were the only Asian rappers," said Kevnish. "But at the same time, there was a sense of hope. It was a chance for an Asian person to get to that level."
Their new discovery went by Jin, who gave a shout out on the show to Aznraps.com, a website that opened the boys to an entire community of Asian American rappers. Far East Movement was not alone.
As their career started off, the group met a continual onslaught of disrespectful venues.
"We would go get booked for a show. The security and promoters and everyone would treat us like garbage. They would make us pull up our pants, make sure we took off our hats. They would treat us like the lowest you could treat us just because we don't look like rappers." said Kevnish. "Then we get questions 'Oh, are you going to sing in Chinese? Are you going to rap in Japanese?' Just all kinds of non-sense. So it sets their expectations that you're going to be so whack, that they're going to have a great time laughing. When we finally got on stage, we did our thing. The crowd is behind us. People are rocking out. (Then) we get the same asshole promoters and security guys tell us "Oh man, you guys are pretty dope!" Mission accomplished."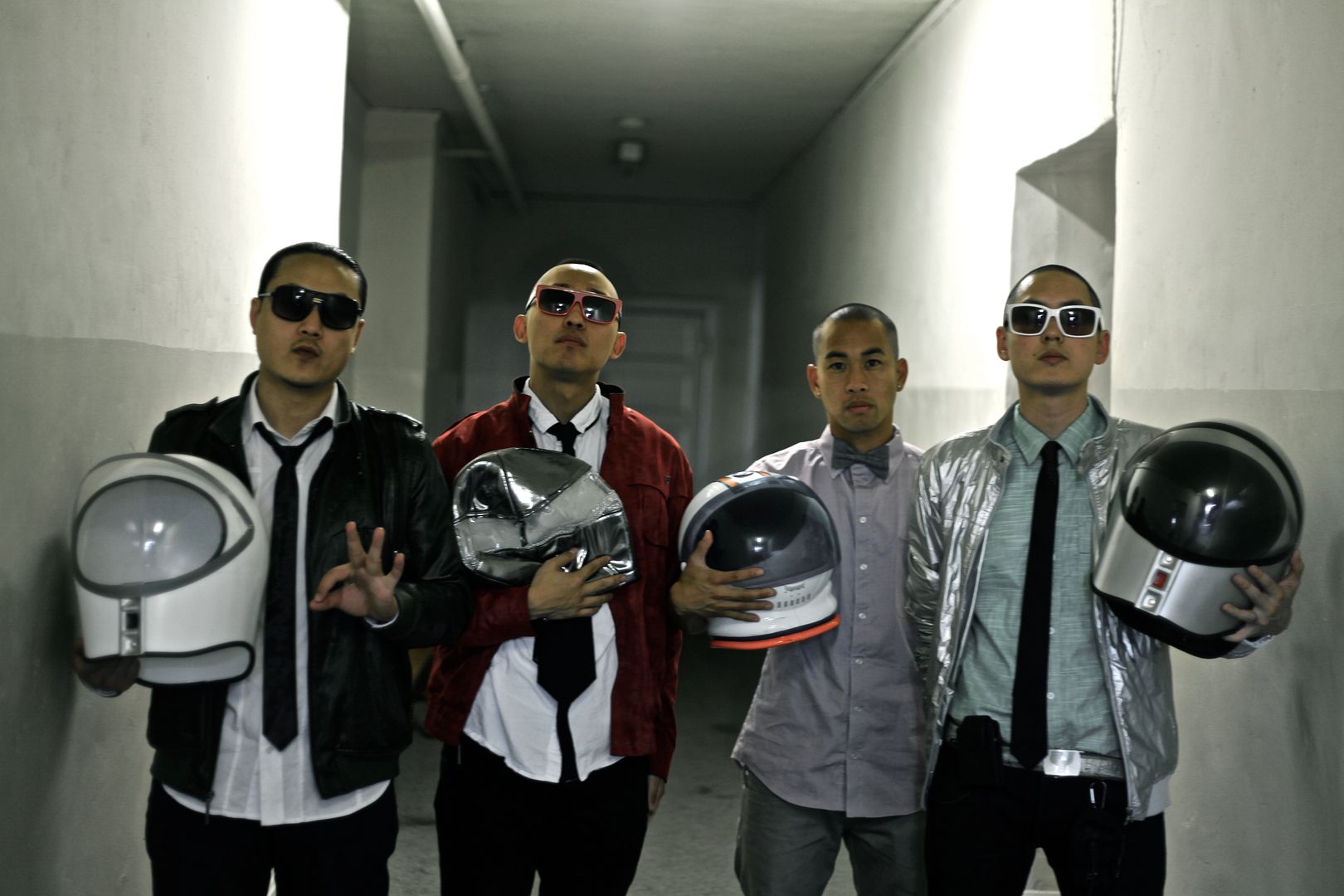 Today, Far East Movement's music can be heard all over the nation, from the radio to television and even when the Bulls dribble down court. They're changing the face of pop culture, but their success didn't fall into their laps out of nowhere. The group has been developing themselves for over a decade.
"We've done shows with, seriously, six people in the audience," shared Kevnish. "It doesn't matter. Even if we have more people on stage than in the audience, we will give it our all. "
The group's success and be attributed in part to placing importance on every opportunity, no matter how small.
"There is still a lack of Asian American representation in the mainstream media," said member Prohgress. "So for a lot of people that don't go to a lot of Asian American events, this could be the first, last, and only time you'll be able to make an impression to prove what an Asian American can do. We're ambassadors in that sense."
This embodiment and empowerment of their identities as Asian Americans in the spotlight stems from experiences with racial relations as kids.
"In junior high school, I experienced a lot of racism actually. It was at a point where it was so regular. It was so often," said Kevnish. At the same time it makes me a stronger person. When people look down on you because that's the way TV has told them to look at you, I don't know how, but it does make you stronger."
"In high school, for one year, I got sent away to Freeport, Illinois. My cousin and I were the only Asian people," said Prohgress." There was one extra Asian girl. People kept trying to set me up with her. She was adopted Korean. One day she came up to me and said, "I hate you so much because you remind me of everything that makes me different.'"
While these experiences may have been difficult at the time, they ultimately helped shape Far East Movement's members into a musical group that supports and celebrates their Asian American identities.
"That's the way we treat our whole career," said Kevnish. "You take that negativity and you make it something positive.
Today, the members agree that the media world has changed since they were kids. And they humbly recognize the importance of representation for Asian Americans in the media.
"We see how Asian American youth are growing. A young girl once argued with her friend (online) and said, "You'll never understand. Seeing Wong Fu and Jin and everybody, that's like my Chris Brown," he continued. "That's so true. When we were younger, we didn't have them to look up to."
Even today, as Far East Movement has become an international phenomenon, the members have not forgotten their responsibility to use their talent and spotlight for social progress.
"It reminds me of when Justin Lin did Better Luck Tomorrow and he was criticized. Someone complained, "I don't feel you're portraying your people in the right light by making them party people or making them killers," said Kevnish. "Ebert stood up on the chair and said "Asian people have the right to portray themselves in any way they wish!" That gave me so much pride. That's the kind of the background of what we do. We're trying as the Far East Movement to give a new angle. An Asian American can be represented in so many different facets. Embrace your community and embrace your people."
Rocketeer by Far East Movement