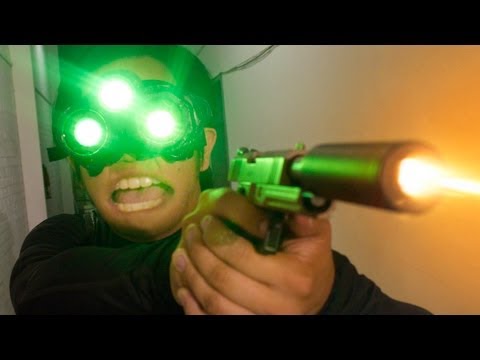 Sharpshooter Freddie Wong becomes joins the Splinter Cell as a Lightbulb Assassin. Third Echelon really has it out for lightbulbs and flourescents. (If you've played the game, you know what's up with this video – shooting lights out and wandering around with night vision.) Freddie brings on the tactical light bulb shooting action. For this week, Freddie and Brandon also take you through behind the scenes on what it takes to make one of their weekly shorts. It's a nice walk through and shows that anyone can make a short. You just need to be creative.
Here's a couple other shooter shorts with Freddie: Body Count, Claymores, One Shot, and Air Ducts.
If you like Freddie and Brandon's work, help fund their web series "Video Game High School".
Splinter Cell: Lightbulb Assassin with Freddie Wong
Behind the Scenes of Lightbulb Assassin