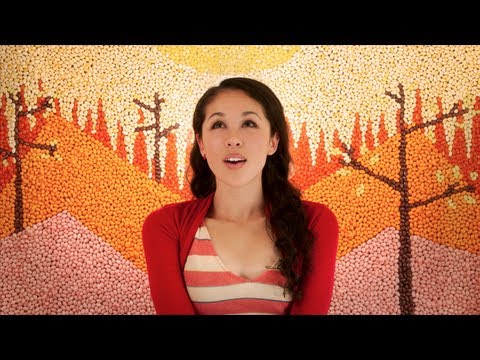 A few months ago, Kina Grannis told channelAPA.com about her super crazy project (SCP). We weren't quite sure what she was talking about until now. Almost two years in the making, the singer released an amazing stop motion music video in a world made of jelly beans for her song "In Your Arms" off her Stairwells album. It's a unique and creative handmade video based on the concept of jelly bean art. She takes you through land, sea, and air (even space) in this delicious and colorful world. With 2460 frames, she takes you an a journey, you'll be taking about for awhile. Enjoy the video… Here's some stats on the items used and time spent to create it:
22 months
1,357 hours
30 people
2 ladders
1 still camera
288,000 jelly beans
You can download the "In Your Arms" on
or amazon. Listen to more music from Kina Grannis : The One You Say Goodnight, Valentine and My Time With You.
More stop motion can be seen in these shorts: Ninja, Dum Dum Dah Dah by The Nghiems, Gummy Bear x Video Games, Deadline, Deadline 2, and Origami In the Pursuit of Perfection.
In Your Arms music video by Kina Grannis
Behind the Scenes of In Your Arms music video by Kina Grannis
Lyrics to In Your Arms by Kina Grannis
Hush now, let's go quiet to the park where it first started
Cold night, us lying in the dark
I felt my heart was trying to find a place for you to stay
A place where I'd feel safe
Anything we have known
Anything we've forgotten
In the rain, in the dark we'll lay
In your arms, in your arms I'll stay
Take my hand, let's go into the trees
Behind the branches, falling on our knees
I remember feeling like this part of us would never change
Anything we have known
Anything we've forgotten
In the rain, in the dark we'll lay
In your arms, in your arms I'll stay
Follow me
We both know the way
It's always been the same
Anything we have known
Anything we've forgotten
In the rain, in the dark we'll lay
In your arms, in your arms I'll stay