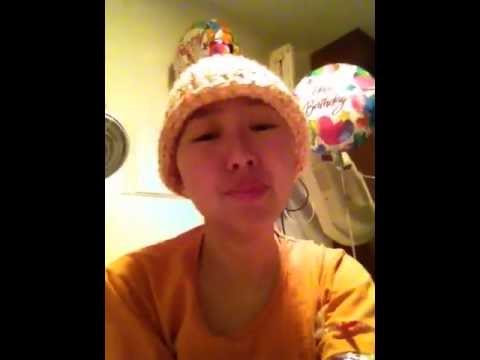 25-year-old Janet Liang posted this powerfully emotional video as she searches for a bone marrow donor match in her battle with acute lymphoblastic leukemia (ALL). She doesn't have much time left. You could be her match. She has until April to find a match. It's tough to watch the video, but hopefully it will encourage people to become a bone marrow donor.
Her friends have established the grassroots movement, Helping Janet, with the assistance of a wonderful support network to increase the number of ethnic minorities in the National Marrow Donor Registry to offer life-saving matches for over 10,000 patients. Janet dedicates this movement in memory of Michelle Maykin and her own grassroots movement, Project Michelle, founded a few years ago. Learn how you can help here.
Join a marrow registry in the United States, Canada, China, Taiwan, Hong Kong, Singapore or other countries.
Finding a Perfect Match for Janet Liang : Her Personal Plea
More about Janet Liang
Janet was diagnosed with acute lymphoblastic leukemia (ALL) in August 2009 while studying at UCLA. She endured 8 rounds of high-dosage chemotherapy that lasted over the course of a year – some hospitalizations lasted for 30 days, while others took several weeks. In June 2010, she left the hospital in complete remission and began a regimen of maintenance therapy that kept her cancer-free for a year and a half.
Grateful for the time she had to be healthy, Janet finished her studies and finally graduated. She was hired by a local school district to assist the teaching staff with tutoring high school students. Although she studied for the GRES and got accepted to graduate school, she declined the offer because she was uncertain about her career choice. Instead, she took a long-awaited dream trip to England and France with her mother. Driven by the desire to do things she's never tried before without hesitation or regrets, she finally crossed traveling to Paris on her list. Janet also got a chance to appear in People Magazine on behalf of the nonprofit organization, First Descents, to promote hope and healing to other young adult cancer patients through whitewater kayaking and other outdoor adventures.
Unfortunately, she has recently relapsed with her leukemia and her plans for the future have been put on hold once again.
She needs your help! She is now pressed for time to find a marrow/stem cell match for a bone marrow transplant that may be the last chance to save her life before she succumbs to this life-threatening illness.