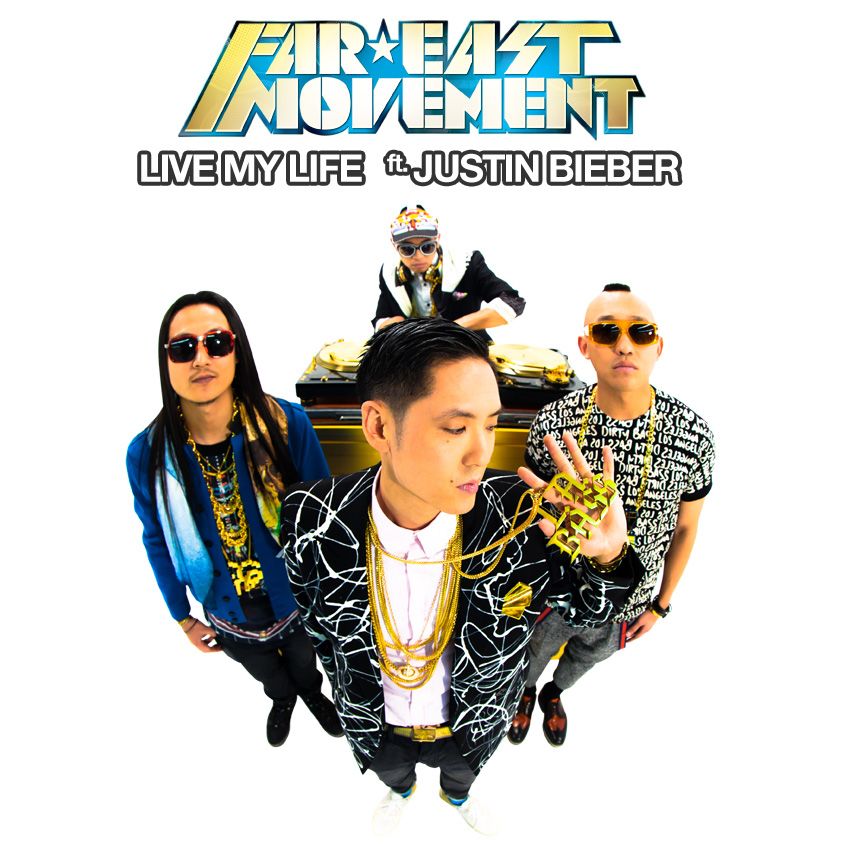 Tour footage of Far East Movement has surfaced online for one of their new songs "Live My Life" off their upcoming "Dirty Bass" album. The single features none other than Justin Bieber. All versions of the song online at the present time are pretty poor quality, but if you pay attention Justin Bieber sings the chorus. The hype machine is leading up to Far East Movement's sophomore album with Cherrytree Records. With Jello out already and the sample of Live My Life released, the group is rolling deep in the dirty bass. Expect huge collaborations on the upcoming album.
update: Produced by RedOne and featuring Justin Bieber, Far East Movement's (aka FM) "Live My Life" exploded onto radio and will be available on iTunes and digital retailers this Tuesday, February 28. The monumental track will feature an additional Party Rock remix version with Redfoo of LMFA. A "Live My Life" music video will be filmed in the coming weeks and both songs will be released on their highly anticipated sophomore album Dirty Bass via Cherrytree/Interscope Records this spring.
"We're thrilled to have Justin be a part of Dirty Bass, exclaims Kev Nish." "FM has always focused on unexpected collaborations and mashing up musical genres which keeps making music exciting. 'Live My Life,' is a song we think both FM and Bieber fans will enjoy together."
You can get the song on
.
update: Live My Life (Party Rock Remix) music video is now out.
Listen to Live My Life by Far East Movement x Justin Bieber

Watch more Far East Movement music videos: Jello, So What?, If I Was You (OMG), 2 is Better, Like a G6, Rocketeer, Girls on the Dance Floor, Fetish, Low Ridin, F*CK the ROBOTS, Dance Like Michael Jackson, and I Party .
Preview : Live My Life by Far East Movement x Justin Bieber
Far East Movement talks about "Live My Life"
Lyrics to Live My Life by Far East Movement x Justin Bieber
[Intro – Justin Bieber]
I'm gonna live my life
No matter what, we party tonight
I'm gonna li-li-live my life
I know that we gon' be alright
[Far East Movement : KevNish]
Yo, hell yeah, dirty bass
Ghetto girl, you drive me cray
Hell yeah, dirty bass
Yo, yo
This beat make me go wow
This drink make me fall down
I party hard like carnival
Let's burn this motha down
This bass make me go ape (go ape)
This girl circus so late
You're that hella cake with a cali shake
I got dough, who's down to bake
Oh my, dirty bass
Oh you got it like that
I can work that back
Let me get that
(get your ass on the floor)
Oh my, dirty bass
Oh you got that small
I can break that off
Let me get that
(get your ass on the floor)
[Justin Bieber – Chorus]
I'm gonna live my life
No matter what, we party tonight
I'm gonna li-li-live my life
I know that we gon' be alright
I'm gonna live my life
No matter what, we party tonight
I'm gonna li-li-live my life
I know that we gon' be alright
Wo-oh oh, wo-oh oh,
I know that we gon' be alright
Wo-oh oh, wo-oh oh
I know that we gon' be alright
[Far East Movement : KevNish]
Yo, hell yeah, dirty bass
Ghetto girl, you drive me cray
Hell yeah, dirty bass
[Far East Movement : Prohgress]
No matter where we be at VIP, or in the c-lac
All we need to start it is the speakers in my g-chat
I spot a couple hotties
Holla, we're the party, we that
Girl move it like pilates
Put your head where your knee at
Oh my, dirty bass
Oh you got it like that
I can work that back
Let me get that
(get your ass on the floor)
Oh my, dirty bass
Oh you got that small
I can break that off
Let me get that
(get your ass on the floor)
[Justin Bieber – Chorus]
I'm gonna live my life
No matter what, we party tonight
I'm gonna li-li-live my life
I know that we gon' be alright
I'm gonna live my life
No matter what, we party tonight
I'm gonna li-li-live my life
I know that we gon' be alright
[Bridge]
This is my moment tonight
Hell yeah we doing it right
So get your hands up in the air
Like we living your life
This is my moment tonight
Hell yeah we doing it right
So get your hands up in the air
Like you living your life
Like you living your life (x4)
[Justin Bieber – Chorus]
I'm gonna live my life
No matter what, we party tonight
I'm gonna li-li-live my life
I know that we gon' be alright
Wo-oh oh, wo-oh oh,
I know that we gon' be alright
Wo-oh oh, wo-oh oh
I know that we gon' be alright