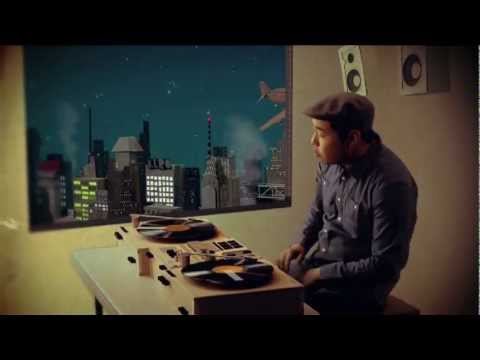 Singers Kero One x Esna released the music video for their single "Fast Life" off Kero One's "Kinetic World" album. The video blends stop motion animation with live action visuals. Listen to the couple as they sing about experiences of life in the fast lane with flashing neon lights. Pick up Kero One's latest album Kinetic World on
or Amazon.
Listen to more Kero One: What Am I Supposed to Do?, Pieces, Stay on the Grind, When Sunshine Comes, Keep Pushin', On Bended Knee, and Welcome to the Bay.
Fast Life music vidoe by Kero One x Esna
Lyrics to Fast Life by Kero One x Esna
Planes rings and automobiles
Flying first class though I got it at a steal
I like to have nice things just like you
as I make my life writing these haikus
but this type of lifestyle might bite through
This rap game's a Crap game where dice like to
take lives , snakeyes, from the top with a view
where people look smaller, and taller than few
for work sometimes, I wish my collar was blue
while some like to rap in a collar with jewels
diamond flooded iced out ego through the roof
bragging what goes up, comes down in a suit
well suit yourself dog, cause that's not my steez
or for now at least, imma pray on my knees
I plead the fast life won't take me under,
Like all those chamois who swore they'd be rubber
Chorus – ESNA
Take a look at the life I was living, all the time kept on passing me by
So I took a breath, took a break from the fast life
Blurry pictures passing me by, blended colors crowding my mind,
So I took a breath, took a break from the fast life
Bridge
Slow down, we moving to fast
Slow down, I think i'mma crash
Slow down, we moving to fast
Bright lights flashing, music and cash
Verse 2
Now In this lane we got press interviews,
Flashing lights and girls by the pool,
Overnight Celebs, from youtube views
So much power and so little rules,
They like kero, "why don't you take advantage"?
Meet a cutie groupie, take her home and smash it,
you must be unfamiliar with my message in rapping,
I wanna heal the soul till I'm dust and ashes,
So when I look back, I wont regret my actions,
i got one life, one mic, and one passion,
I'mma get Higher than aspen,
with Christ everlasting, giving air when I'm gasping
but I ain't a perfect man in this rap game,
So I pray to stay humble in fast lanes,
without selfish ambition I'm wishing
to be that shining light, when all else glistens..