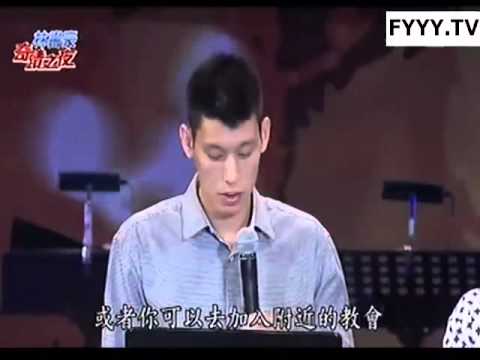 Did you ever want to know the story behind Linsanity? Last week, Jeremy Lin gave his testimony/sermon about his life and Linsanity in Taiwan before thousands of people at Xinzhuang Stadium. Even when things in his life seemed bleak when he was sent to the D-League multiple times and was waived by several teams including his home team the Golden State Warriors, he shared about how God's hand has helped him along the way with a plan for him. Jeremy had a lot of doubt about his purpose and playing basketball in his rookie season. Stressed physically and emotionally during that time, he reached a point of depression, feeling embarrassed and a complete failure. At his deepest point, he lacked confidence on the court and didn't like playing basketball, even wishing he never signed to the Golden State Warriors. After his rookie season, he changed his perspective and decided to play ball for God and no one else.
He had a rough start to his second year. Waived by Golden State and Houston Rockets, he was picked up by the New York Knicks and sent to the D-League again. With rumors swirling of being cut from the Knicks, he was either going to take a year off or quit basketball all together. In February, Jeremy Lin played against the New Jersey Nets, which became the start of what was known as Linsanity. He began to see a part of God's plan revealed to him. In some of his well known highlights like the spin move against Los Angeles Lakers' Derek Fisher and the game winning 3 pointer against Toronto, Lin felt God's presence. He never does spin moves and was 1 for 13 for the season beyond the arc. That only 3 pointer he made was that game winner. With every step of Linsanity, he was shocked at what happened and was reminded of the Bible verse Romans 8:28 – "And we know that in all things God works for the good of those who love him, who have been called according to his purpose."
In his short NBA career, Jeremy Lin has seen how God's fingerprints touched his life in good & bad circumstances and how both were all turned to good. He outlines 13 things that needed to miraculous occur to make Linsanity a reality:
1.Dad moved to America turned on TV fell in love with basketball. (Rare to see Asian American family embrace basketball when he was growing up.)
2.Got genes to be 6'4″ with shoes and weigh 205 lbs (both his parents were 5'6″)
3.Broke ankle in junior year and missed championship game in high school (turning point that taught him a lesson to be less arrogant)
4.Rejected by Stanford and other school, recruited by Harvard (Landry Fields took his spot)
5.Entered NBA draft (his best work out with Knicks, but they took Landry Fields), but Lin went undrafted.
6. The Mavs were the only team to give him spot in summer league. (Lin injured his Achilles, but was ready the first day of summer league.)
7. Teammate "Roddy" Beaubois got injured (that was the only game he missed in summer league) which gave Lin play time. Of the 20 quarters of summer league, Jeremy's best was the 4th quarter against Wizards. During that day, Lin was known for his skills against the Washington Wizards 2010 #1 draft pick John Wall.
8. Houston Rockets picked up Lin in 2011. The team had 15 players on roster, Houston wanted to keep Lin and for 2 days tried to trade away another player to keep him, but he was waived on Christmas Day.
9. New York Knicks' Iman Shumpert hurt his knee on Christmas Day and that's when the Knicks picks up Lin. Originally, Houston wanted to waive Lin on December 23, but if that happened he couldn't have been picked up by the Knicks. (There is a 48 hour window once you are waived.)
10. NBA Lockout. The last NBA lockout was 13 years ago. (That's the only time teams play three games in a row.) The Knicks had only one back to back to back. The last game of that series was against the Nets, which was the start of Linsanity. No lockout, no three games in a row. Lin played that third game since players were tired
11. Amare Stoudemire went to Florida for his family
12. Carmelo Anthony injured his groin. (With Amare and Carmelo out, Jeremy was the primary option for offense the next seven games.)
13. Landry Fields (the one that took his spot in Stanford and the Knicks) became his closest friend in NY during Linsanity. He worked closely together as teammate and even had a secret handshake.
Without these things, Linsanity wouldn't have happened. It's Romans 8:28 in action. Even with all the success from benchwarmer to starter, Jeremy Lin wasn't fulfilled and wanted more. With magazine and TV coverage, he had it all along with endorsement deals and a win streak, but things slowly faded away. By March 11, 2012, he was too focused on stats, wins, and Linsanity. With the miraculous run over, he felt a loss of joy and emptiness. Lin needed to refocus and play for God again and not for himself or everyone else.
Using himself as an example, he turns to the audience to relate his life to your life. What do you want the most in life? Grade? Jobs? Money? What is your purpose in life? Society gives you an endless cycle : in high school you chase grades, grade to college, college to internship, internship/college to job, job to promotion, promotion to
best in field, from there you want cars, home, & gadgets, to spouse and family/kids. Then you want the kids to jump in the same cycle, so the next generation can get more. You always want more. Can you ever feel satisfied or fulfilled?
Using himself as an example again, he wasn't satisfied. Every game he wanted to do better than the last and chase a championship. If he got a championship, he wants another one. If he made his identity synonymous with points, wins, and champsionship, he'll never be satisfied. Chasing things of this world will never lead to a fulfilling life. Lin illustrates this with the story of Jesus and the Samaritan woman in John 4:1-26. (Water of life story) Going after things (job, money, house, grades, etc.) that you think you will satisfy you never will. The lesson from Linsanity that Lin learned was nothing that this world can provide will give fullfillment, satisfaction, and joy expect Jesus Christ. "What good will it be for someone to gain the whole world, yet forfeit their soul? Or what can anyone give in -exchange for their soul?" – Matthew 16 :26
Jeremy Lin Testimony about Linsanity from Taiwan
Jeremy Lin Testimony about Linsanity from Taiwan (longer version)