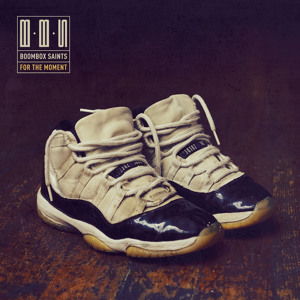 Vancouver based Hip-Hop/R&B group Boombox Saints release their debut full-length album "For The Moment". Recorded over 10 months from late 2011 into 2012 "For The Moment" is a brutally honest narrative of each individual's experiences with life's highs and lows, family struggles and painful personal relationships. Consisting of Freeky P, Adlib, Huggy Fresh and DJ Relik, the Boombox Saints are sneaker fiends, street-wear enthusiasts and addicted to fresh junkies have an uncanny ability to capture the attention of anyone within earshot of their own brand of Hip-Hop & R&B infused pop. "For The Moment is as outside the box as a fresh pair of J's" says Huggy Fresh. To sum up this record, "the weathered soles pictured on the cover is parallel to our own souls, worn out running thru the fourteen songs on this album. In laymen's terms this is swag-fest 2013." Freeky P describes the new album as "a post-modern, modern epic love tale of our collective lives tracked by a New-stalgic soundscape, detailing the joys and falls of relationships in the never ending chase of happiness. In short, walk fourteen songs of our lives and you'll forever be changed." Here's the full track listing for the album:
1. Whole World
2. Comin' Back
3. Move On
4. For The Moment
5. Blind feat. Emmalyn Estrada
6. Choreographer
7. 0
8. Walls
9. By My Side feat. Vanessa Villabroza
10. For You feat. Jenilee Reyes
11. Walk On By
12. Peekaboo Style feat. Emmalyn Estrada
13. Can't Be (Interlude)
14. One Last Time
Produced entirely by DJ HUNT with co-production ("O", "By My Side", "Walk On By", "Peekaboo Style" and "One Last Time") by DJ KEMO, the 14 song album is now available worldwide on
or amazon, as well as offered as a free download on the band's website here.
The quartet has garnered considerable media attention for their quality of music and hyped performances alongside some of today's most successful and respected acts – J. Cole, Kid Cudi, Big Sean, Mos Def, Jay Electronica, Talib Kweli, Souls of Mischief, Far East Movement, Danny Fernandes, Sean Paul and many more.
Listen to more Boombox Saints: She Looks Like, Gametime, The Break Up Song and Late Night Creep.
For the Moment album by Boombox Saints