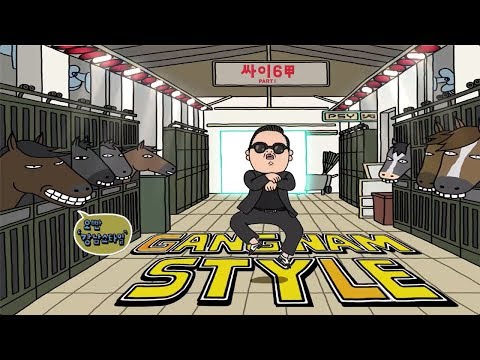 As the run away hit of 2012, it was only a matter of time before PSY's Gangnam Style would surpasses 1 billion views on YouTube. (He became the most viewed YouTube video of all time just a few weeks ago.) Today, the 34-year-old K-Pop artist's work became the first video ever to reach one billion views. From the catchy music to the invisible horse dance, his music has universal appeal even though it's all in Korean. Reaching the 1 billion mark was done in only 5 months with the barriers to music distribution crumbling before our ears. Here's some stats from YouTube on the video:
PSY was already big in Korea, but in 2012, he became a global celeb as Gangnam Style quickly spread from Seoul and the pacific to North America, South America, and Europe. It's been seen at least 1 million times in close to 75 countries, making it one of the most global music sensations ever!
From a one-thousand person flash mob in Jakarta to cover videos from Ai Weiwei and Mitt Romney, hundreds of thousands of parodies have been uploaded to YouTube, some of which have tens of millions of views. In fact, fan tributes to Gangnam Style are now being viewed 20 million times every single day. Here's some of our favorites: Canton Style, Lo Pan Style, Gangnam Style by Just Kidding Films, Byuntae Style by David So, and K-Town style.
PSY's own remix with Hyuna has 200 million views alone.
"Gangnam Style" was YouTube's top rising search of 2012 and on October 6th, we saw more than five million searches for "gangnam style" in a single day.
For those interested in the business side: a number of assessments and projections have been posted claiming "Gangnam Style" has generated over $8.1 million in advertising deals, hit more than 2.9 million in song downloads since July, and achieved other incredible feats!
Since late last month, people have clicked to buy the track on iTunes over 600,000 times helping make PSY the first Korean artist ever to rank #1 on the U.S. iTunes chart and #1 in over 30 more countries
The chart below shows how quickly PSY rose to fame compared to the next most viewed video Baby by Justin Bieber:
Which Asian/Asian American artist will break out in 2013?
PSY's Gangnam Style surpasses 1 billion views on YouTube