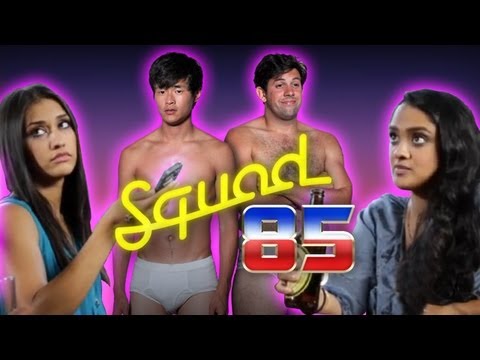 The webseries Squad 85 continues with episode 4 entitled "It's Gonna Blow". The squad holds a meeting to figure out how the drugs got into Dukakis High. When they deduce that Rickman (Parvesh Cheena) is a suspect, they pay him a visit. At Rickman's residence, the squad watches a home video that he created that could reveal his motives. With a little classic 80's detective work, the crew heads over to the favorite bar of Rickman's henchman, a bear bar. When Tori fails to get the information they need, Bobby and Bronx go undercover. Will their cover get blown when assistant principal from Dukakis High (Rizwan Manji) enters the bar? (Look for a cameo by fellow Outsource cast Anisha Nagarajan and True Blood's Janina Gavankar.)
If you ever wanted to go back to the 80's, this series will take you back.
Previous episode:
Squad 85 : Episode 1
Squad 85 : Episode 2
Squad 85 : Episode 3
Squad 85 : Episode 4
More about Squad 85
"In 1985, the Los Angeles Police Department Experimented with a secret time-travel division, catapulting four of LA's finest, twenty-five years into the future. That future… Is Now!"
Into today's tired world of lab work, warrants, and white-gloved crime scene investigations, bust an elite, twentysomething, mixed-race team of police who only know to kick down doors and ask questions later. Our band of cops — RUSTY (the Hearthrob), WHEELS (the Brains), BRONX (the Muscle), TORI (Disguises/Accents), BOBBY (the Rookie) & THE CHIEF — are assigned to solve the cases only they can.
In Series One, the Squad is hot on the trail of RICKMAN (Parvesh Cheena – Outsourced, Barbershop, Friend Me), as he tries to run a new lethal designer drug through Dukakis High. And it turns out he has ties to other things… big things…