Jordan Nagai is the voice of "Wilderness Explorer" Russell in Disney Pixar's "UP". When he did the voice overs, he was only 7 years old. As a first time actor, Jordan Nagai was paired with Ed Asner as "Carl" for this odd couple comedy. Both leading characters are not what you typically see in films these days, an Asian American kid and a geriatric old man. Pixar is definitely being very progressive with this film. Read some sweet commentary about the film by David Chen over at /Film in the article Marketing Up's Asian-American Lead Character. Apparently, Jordan supplied a voice on a future episode of "The Simpsons." He's the first kid to record on The Simpsons.
Update: Disney Pixar's UP is now available on DVD, get it here.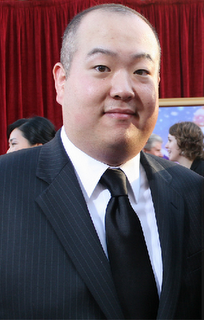 Also interesting is the fact that the character "Russell" is based on Peter Sohn, a Pixar animator, who is also Asian American. We can kinda see the resemblance between Russell and Peter. Read the end of the Sci Fi Wire interview here. BTW – Peter Sohn is voice of Emile in "Ratatouille" and the director of the short "Partly Cloudy," which will be shown before "UP."
The casting of this film is the opposite of 21, Dragonball Evolution, and The Last Airbender. Here's an interesting article by the LA Times about how Jordan Nagai got casted. He beat out 500 other kids for the role including his own brother.
Get tickets for UP here.
Q&A with Jordan Nagai as Russell in UP
UP Trailer
More about UP
From Disney•Pixar comes UP, a comedy adventure about 78-year-old balloon salesman Carl Fredricksen, who finally fulfills his lifelong dream of a great adventure when he ties thousands of balloons to his house and flies away to the wilds of South America. But he discovers all too late that his biggest nightmare has stowed away on the trip: an overly optimistic 9-year-old Wilderness Explorer named Russell (Jordan Nagai). From the Academy Award®-nominated director Pete Docter ("Monsters, Inc."), Disney•Pixar's UP invites you on a hilarious journey into a lost world, with the least likely duo on Earth. UP will be presented in Disney Digital 3-D? in select theaters.


Get Russell gear with your favorite design below: