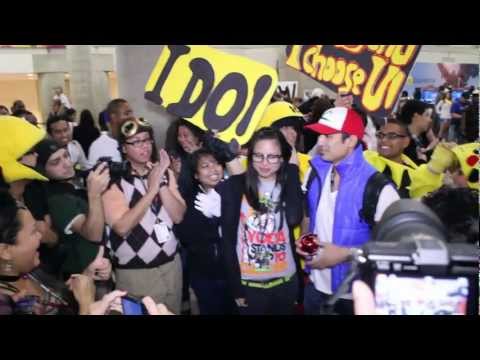 Not to be outdone by Asian American flash mob wedding proposals on the West Coast, the East Coast show you you what they've got. While the West Coast uses sites like UCLA and Downtown Disney, this couple in the East Coast uses the 2011 New York Comic Con as their backdrop. See the likes of Harley Quinn, Pikachu, members of Green Lantern Corps. anime characters, Jabbawockeez, a break dancing Boba Fett, and more show their moves to Bruno Mars' track "Marry Me". They roll out the red carpet for this special girl to meet Ash holding a Pokeball with a ring inside.
Who's got the better wedding proposals? West Coast or East Coast?
Here's more from Marq (the guy proposing in the video_
With the help of friends and family, I pulled off the geekiest marriage proposal of the year at New York Comic Con '11. I conducted a flash mob of costumed dancers to the song "Marry You" by Bruno Mars. We had Green Lantern, Buzz Lightyear and even a breakdancing Boba Fett. Towards the end, a red carpet was rolled out and all the dancers lined up as Chriselle walked down the aisle. She reached the end where four people were lined up. They separated, revealing me on one knee dressed as the main character, Ash from Pokémon. A girl dressed as Pikachu handed me a pokéball which I opened to reveal the engagement ring. After she said "yes" and the crowd cheered, both our families came out to surprise her. It took place at 2:22pm which symbolized our anniversary, 2/22.
Vote for them at the proposal awards here.
New York Comic Con flash mob wedding proposal