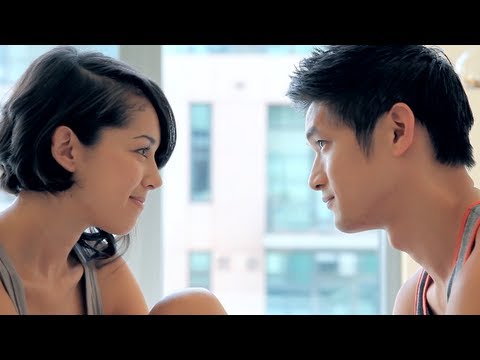 The short film "The Last" by Wong Fu Productions tackles love through the questions : who, what, when, where, and why. How would you answer a simple question, "How many have you loved?" Is your answer, one and only? Or is it several, all of whom have shaped your life? To answer this simple yet complex question, Wong Fu Productions pulls together an all-star cast from music and dance. In the video, Harry Shum Jr. answers this simple question for Kina Grannis. Each girl from his past has shaped how he loves today : who – sorority girl (Shelby Rabara) , what – old friend (Mimi Chao), when – first girlfriend in high school (Kaile Goh), where – the girl from Los Angeles (Yuri Tag), and why – the friend who passed away (Lana Mckissack). The short offer a touch and thought-provoking way of how we learn about love. Here's more from Wong Fu Productions about "The Last":
The goal of this short was to speak to both our younger and older audiences. I know Wong Fu Productions has a lot of viewers who are probably just getting their first experiences of what "love" feels like, or what they want it to feel like. To them, I hope this short gives them a sense of hope and something to look forward to. As someone who has been through those younger stages in high school and college, I wrote Harry's character to have had encounters of meaningful love in those stages of his life, because they are important. Now, still speaking to these younger viewers, many of you may also feel like you have lost the "one true love" of your life. To those I hope this short shows that your future holds others who you have yet to fall in love with (and maybe once again lose). There is time ahead of you, and in this time you will find love in other ways, or perhaps love will return to you, I can't tell you for certain, but I can tell you not to completely lose yourself in the present, and try to believe that one day you will look back on the ones you've "lost" the same way the man in the film does, with understanding and joy.

To the older viewers, you understand this video from a completely different perspective, because you may have you own past of loves. Maybe not, five, but you understand what it means to have a past, those who came before, and what each of those past experiences have taught you. Could you have your own "who", or "what", or "why"? Possibly two "whens"? I hope this short can remind you of what you've learned from each encounter of love, even if it seemed terrible back then, you have had the gift of time to teach you why it happened, and how you grew from it.

There's actually one more audience this short hopefully speaks to, and it's those who have found the "last". What greater feeling is there to have gone through a journey of years, emotion, heartache, joy, and to realize that the person you are with now is the person that embodies everything you've gained and needed from your past? If you are one of these people who are with the man or woman they hope, or are, the last, remember how lucky you are. Remember the time when you didn't have their presence in your life. Remember…who, what, when, where, why they are your last, and be thankful. For there are many who are still on that journey you were once on. Encourage them; the lost to keep hopeful, the troubled to keep fighting for, and the cynics to keep believing in, love.
Watch more Wong Fu Productions shorts : At Musing's End, Shell, Two After Noon, When Five Fell and Strangers Again
The Last by Wong Fu Productions