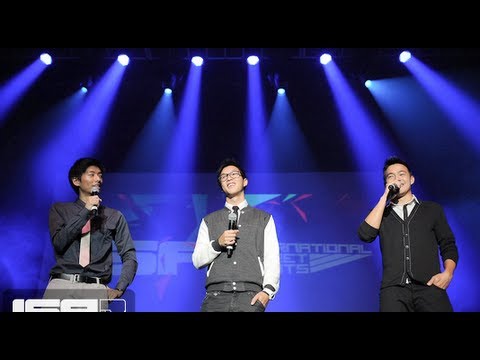 The guys of Wong Fu Productions recap their 201l. If you missed any of their shorts, you can catch them here:
"Sundance" interview
"Ricks Good Cooking Gets Girls"
"Ricks 5 Perks of Having a Girlfriend"
"These Four Walls"
"The Places We Should Have Gone"
Wong Fu Weekends Season 3 (Ep 36-49)
"Technology Ruins Romance: The Airport"
"Forever Endless Valentine of my Winter Heart"
New Office!
100th Event at the Director's Guild of America!
"Strangers, again"
"Kung Fooled"
Harry Shum Jr. Skits : 3 Steps to Self Esteem, Best Date Ever, Buffet
"Psychic Roommates"
Wong Fu Weekends Season 4 (Ep 50-65)
"By My Side – David Choi"
"Hot Lava"
"Recess Court" :
ISA Concerts : Seattle, San Francisco Bay Area, Los Angeles
"The Screen Test"
"1 Million Subscribers"
"Still In Love With You – Wang Leehom"
"Shell"
"Home:Word – Magnetic North & Taiyo Na ft. Sam Kang"
WHITE HOUSE : coming soon
Wong Fu Weekends Holiday Edition
"The End of Wong Fu"
If you thought 2011 was big, just wait to see what Ted, Phil, and Wes have in store for 2012. For the channelAPA.com interview with them, webseries might be in store.
2011, A Look Back with Wong Fu Productions