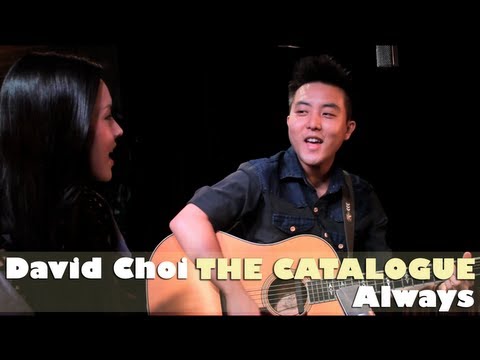 Singers David Choi x Marie Digby team up to share their take on the 1987 Atlantic Starr hit single, "Always", from deep inside The Catalogue. The two sing a beautiful duet together blending melodies and harmonies from the 80's hit song. Do you like their rendition?
Watch more David Choi videos: Lucky Guy, By My Side, Won't Even Start and That Girl, Better You and Missing Piece. Listen to more Marie Digby: First Picture of Earth, 3AM, Your Love (duet), Your Love, Feel, Say It Again, and Avalanche
Always by David Choi x Marie Digby
Lyrics to Always by Atlantic Starr
Girl you are to me
All that a woman should be
And I dedicate my life
To you always
A love like yours is rare
It must have been sent from up above
And I know you'll stay this way
For always
And we both know, that our love will grow
And forever it will be, you and me (yeah)
Ooh you're like the sun, chasing all of the rain away
When you come around you bring brighter days
You're the perfect one, for me and you forever will be
And I will love you so, for always
Come with me my sweet, let's go make a family.
They will bring us joy, for always.
Ooh boy I love you so, I can't find enough ways
To let you know, but you can be sure I'm yours for always.
And we both know, that our love will grow
And forever it will be, you and me (yeah)
Ooh you're like the sun, chasing all of the rain away
When you come around you bring brighter days
You're the perfect one, for me and you forever will be
And I will love you so, for always
(Ooh… ooh… I will love you so for always.)
(Ooh… ooh… I will love you so for always.)
(Ooh… ooh… I will love you so for always.)