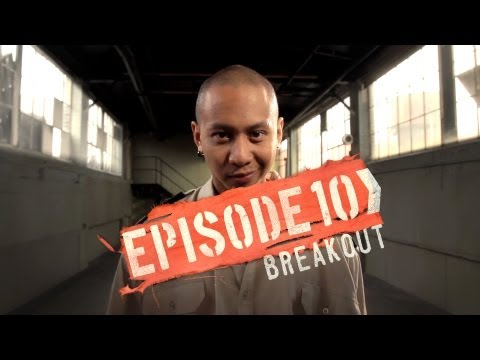 In the tenth episode of Prison Dancer, Lola focuses on creating Michael Jackson Thriller-inspired dance moves with the inmates. Meanwhile, Christian attempts to escape prison and risks everything for love.
At 2pm on April 9, 2011, Christian Escodero, inmate #90020 escaped from the Metro Manila Detention Centre during the public performance of the world famous Prison Dancers. He is considered armed and extremely dangerous. If you have any information about his whereabouts, email prisondancer@gmail.com . Your identity will remain confidential.
Previous episodes:
Prison Dancer Episode 1
Prison Dancer Episode 2
Prison Dancer Episode 3
Prison Dancer Episode 4
Prison Dancer Episode 5
Prison Dancer Episode 6
Prison Dancer Episode 7
Prison Dancer Episode 8
Prison Dancer Episode 9
More about Prison Dancer
Prison Dancer is the story of 6 Filipino prisoners whose lives are forever changed by the dancing rehabilitation program that became a worldwide viral sensation on Youtube. Using surveillance footage, interviews with inmates inside the prison, and good old fashioned investigative journalism, pop culture journalist Matt Wells uncovers the personal, poignant, hilarious and universal stories of 6 prison dancers whose group dancing turned a maximum security jailhouse into a world stage.
Behind the prison walls, we meet inmates Ruperto Poblador aka LOLA (who along with his gay minions OO OO and NANA, choreographs the first prison dance routines), HOOKAPS, (the prison hustler), SHAKESPEARE (the prison's resident poet) and CHRISTIAN, (the prison's newest inmate) and discovers a tale of life, death, dreams, fears and ultimately, redemption.
Prison Dancer : Episode 10
Lyrics to Breakout
CHRISTIAN
Escape
I gotta get away
I gotta leave it all behind
Make no mistake
I know that I'll be fine
I know that I have done my time
I think this is a breakout
I think I'm breaking free
I think I'm on the way out
Good luck in catching me
In catching me
I need some luck in getting free…
It's true
Every step I take
Each one in the right direction
Leads me to you
To you where I belong
You know both my right and wrong
I think this is a breakout
I think I'm breaking free
Today I'm on the way out
So baby wait for me
Just wait for me
I think this is a breakout
I think I'm breaking free
Today I'm on the way out
So baby wait for me
Just wait for me…