Thanks to all the fans, followers, supporters, the people we interviewed, and the people behind the scenes of channelAPA.com to help make 2010 a successful year for channelAPA.com. We look forward to continued growth in 2011. Happy New Year and see you in 2011.
Here's a recap of some of the top video for 2010 on our site:
1. Ktown Reality Show Cast revealed
The biggest story we broke this year was revealing the people who were selected for the K-Town Reality Show (aka the Asian Jersey Shore.) backed by Tyrese. Our post triggered an avalanche in the media about the show, while the Asian American community had both positive and negative reactions to the show without even one episode airing. You might not have to wait long. Rumor has it that the show has been picked up already. Get ready for more of Steve Kim, Scarlet Chan, Young Lee, Violet Kim, Joe Cha, Jasmine Chang, Peter Le, and Jennifer Field to hit the airwaves. They're gonna shatter the stereotypical image of Asian Americans.
2. Like a G6 music video by Far East Movement
Neck and neck with our K-Town post were the guys of Far East Movement. Their #1 song Like a G6 broke through the mainstream pop charts. FM landed on the top spot of the Billboard 100 and sent their hit single to double platinum status. We thought we would never see Asian Americans on the top of the music chart, but Far East Movement proved us wrong. Their free wired lifestyle got the attention of numerous high profile music artists and celebrities including Mike Shinoda of Linkin Park, Snoop Dogg, Magic Johnson, Lil Jon, will.i.am, and Bruno Mars. 50 Cent and Three 6 Mafia did their own remixes of the track too. Grab "Like a G6″ on

. FM isn't done yet. They've got more singles to release off their Free Wired album. Their current single Rocketeer is already moving up the music charts.
JRA (aka JR Aquino) got a year end surge for his song "By Chance (You & I)" when the romantic love song was used in Wong Fu Productions x Ryan Higa's Agents of Secret Stuff. The single was already a hit earlier in 2010 and prompted JRA to make the track available on
. If you like his music, support JRA by getting his album Exposure.
4. Wedding Dress Remix by Tommy C x J.Reyez
Love songs were big on channelAPA.com this year. The hit in the spring was the collabo between Tommy C x J.Reyez for the English remix of the Korean song "Wedding Dress" by Taeyang. The remix kept the original concept of the song intact, but reworked the lyrics for an English market. Look for Tommy C and J.Reyez doing more big things in 2011. Recently, they did a collabo with 454 Life Entertainment for the song Girlfriend.
5. Perfect Two Remix by Auburn x Tommy C of IBU
Tommy C lands another spot on the list with his remix of Auburn's "Perfect Two." The fun love song offers different pairings on how couples complement each other. It's a cute song and fans really love it. You never know where Tommy C will pop up for his next collabo. BTW – he is part of the boy band IBU. Check out his original song 911 Emergency.
6. KevJumba & his dad on Amazing Race Season 17
Team Jumba enjoyed a lot of support from their online fans when they were on the Amazing Race Season 17. They didn't get much face time on the first episode, but that quickly changed. We followed the father and son team all over the world. Kevin Wu even offered his own take as the episodes aired (See I hate tiny boats, We're not Ghana make it, I Forgot My Buttpads, Jumping off a Bridge in Norway, I Fell in Love with a Russian Babushka, and Russian Mystery.) But alas, they were eliminated about halfway through. Ultimately, Kat and Nat won Amazing Race Season 17. As for the future of Team Jumba, a new reality show might be in their future: Jiggy with the Jumbas.
7. Glee Season 2 Episode 1 (Charice episode)
During the summer, rumors were spreading as to whether Charice was joining the cast of Glee. When the first episode of Glee Season 2 aired, we found out that Charice was a foreign exchange student, Sunshine Corazon. Fans can't wait for her to appear on the show again, but they'll need to wait til 2011. Charice has been busy all year long promoting her self-titled album, which included Pyramid. See what her life's been like through 30 days with Charice.
8. D-Pryde signed to Mars Music Group : exclusive channelAPA.com interview
Up and coming rapper D-Pryde was signed to the music label Mars Music Group out of New York. We were first on the scene to interview him on the new development and what it meant for his career. Listen to this guy spit fire and you'll see why he's going to make a splash in 2011 with his upcoming album. Listen to some of the tracks he released this year to see what to expect: Fireworks, Take off, Fly Away, and So Appalled. D-Pryde wasn't the only artist that got signed that we got the scoop on. We also saw Joseph Vincent sign with Catch Adventures and Baiyu sign with JMD Records.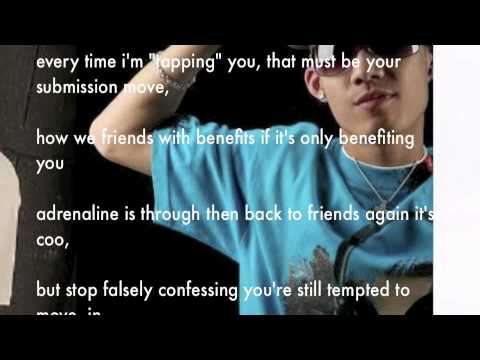 9. Lovers and Friends by Lil Crazed x Trixx x Skip
Lil Crazed enters the list with his song "Lovers and Friends." This isn't quite a love song. It's for those who can't figure out if you're lovers or friends or maybe both.
10. Brenda Song in The Social Network
Brenda Song shattered her Disney image in the movie The Social Network about Facebook. She's ready to make the move out the world of Disney after this film.
Our party theme music for 2010: Far East Movement's Like a G6. We're closing out the year with this song.
Here's all the top songs in 2010 mashed up into one. United State of Pop 2010 by DJ Earworm (with Bruno Mars – Just the Way You Are, he Black Eyed Peas – Imma Be, and Travie McCoy Featuring Bruno Mars – Billionaire)