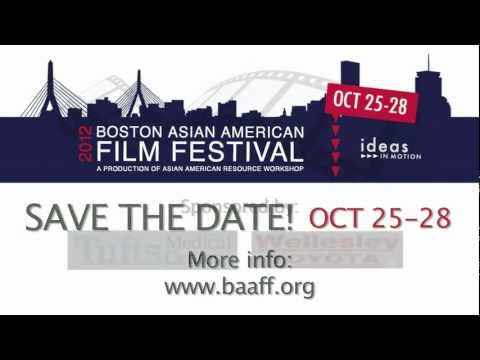 The 2012 Boston Asian American Film Festival (BAAFF) announces a provocative and entertaining program of independent cinema highlighting recent, significant works by and/or about Asian Americans and the Asian diaspora. The festival takes place October 25 to 28, 2012 in Boston at Emerson College's Bright Family Screening Room in the Paramount Center; in Cambridge at the Brattle Theatre; and in Somerville at the Somerville Theatre. This fourth edition of the festival features more than five Boston/New England premieres, exclusive Q&As with filmmakers and various co-sponsored events around Boston.
The festival opens on October 25th, 7:30pm at the Brattle Theatre in Cambridge with Quentin Lee's WHITE FROG, a twist on the coming-of-age genre film. Starring some of film and television's most acclaimed and recognizable actors – including Booboo Stewart, Joan Chen, B.D. Wong, and Harry Shum, Jr. – WHITE FROG is an incisive look at the modern American family centered on a young autistic boy coping with the death of his older brother, and ultimately a universal story of the power of family and friendship in the face of difference and tragedy.
The film festival weekend continues with gems from the festival circuit, including Ernesto Foronda (producer, BETTER LUCK TOMORROW) and Sila Howard's SUNSET STORIES, a quirky tribute to Los Angeles; WEDDING PALACE, a comedy and debut feature by Christine Yoo; Lily Mariye's devastating teen drama MODEL MINORITY; YES, WE'RE OPEN, a flirtatious take on love and relationships by Richard Wong and H.P. Mendoza (COLMA: THE MUSICAL, FRUIT FLY); and SHANGHAI CALLING, Daniel Hsia's expat romantic comedy.
This year, the festival will present two powerful documentaries which each have a unique relevance to the Boston community. BAAFF's timely Centerpiece Presentation during this primary election season is MR. CAO GOES TO WASHINGTON, a film by acclaimed documentary filmmaker S. Leo Chiang (A VILLAGE CALLED VERSAILLES). The film is a compelling portrait of rookie congressman Joseph Cao who traverses party lines in the pursuit of his ideals and beliefs, and is a refreshing and thoughtful look at how personal choices can affect the community at large. PUI CHAN: KUNG FU PIONEER, the debut documentary film by actress and martial arts master Mimi Chan (best known as the model for Disney's MULAN), is the ultimate tribute to one of the men who brought Chinese martial arts to the United States. Grandmaster Pui Chan's Wah Lum Kung Fu Academy and Athletic Association has since become the most important and well-established martial arts system in the United States, and this film hopes to draw in enthusiasts, students and filmgoers alike to a celebration of shared cultural heritage.
The 2012 Boston Asian American Film Festival will feature two specially curated short film programs. FEAR BUFFET is a set of six short films that offer different takes on all things frightful, and REEL FOOD offers eight family-friendly shorts about the lighter sides of life. On Friday October 26, 7pm at the Somerville Theatre, BAAFF will be co-sponsoring a special screening of I AM A GHOST with Boston's Shudder Fest Horror Film Festival. H.P. Mendoza's piercing thriller deftly demonstrates the versatility of the Asian-American horror feature film and is the winner of Best New Horror Director by SF Weekly.
Tickets to the 2012 Boston Asian American Film Festival can be purchased at the door or online here. Individual tickets for each film (excluding the Opening Night film) are $10 for General Admission, and additional member and student rates may be available and vary depending on venue. Tickets to the Opening Night film at the Brattle Theatre are $25 for General Admission or $20 for Early-Birds purchased by October 18.
2012 Boston Asian American Film Festival trailer reel